News&Topics
Latest News from Kitaguni Inc.
NEWS
Tasting Event for Hokkaido grown onion dressing at "Hills Marche" in Ark Hills (2015/9/5)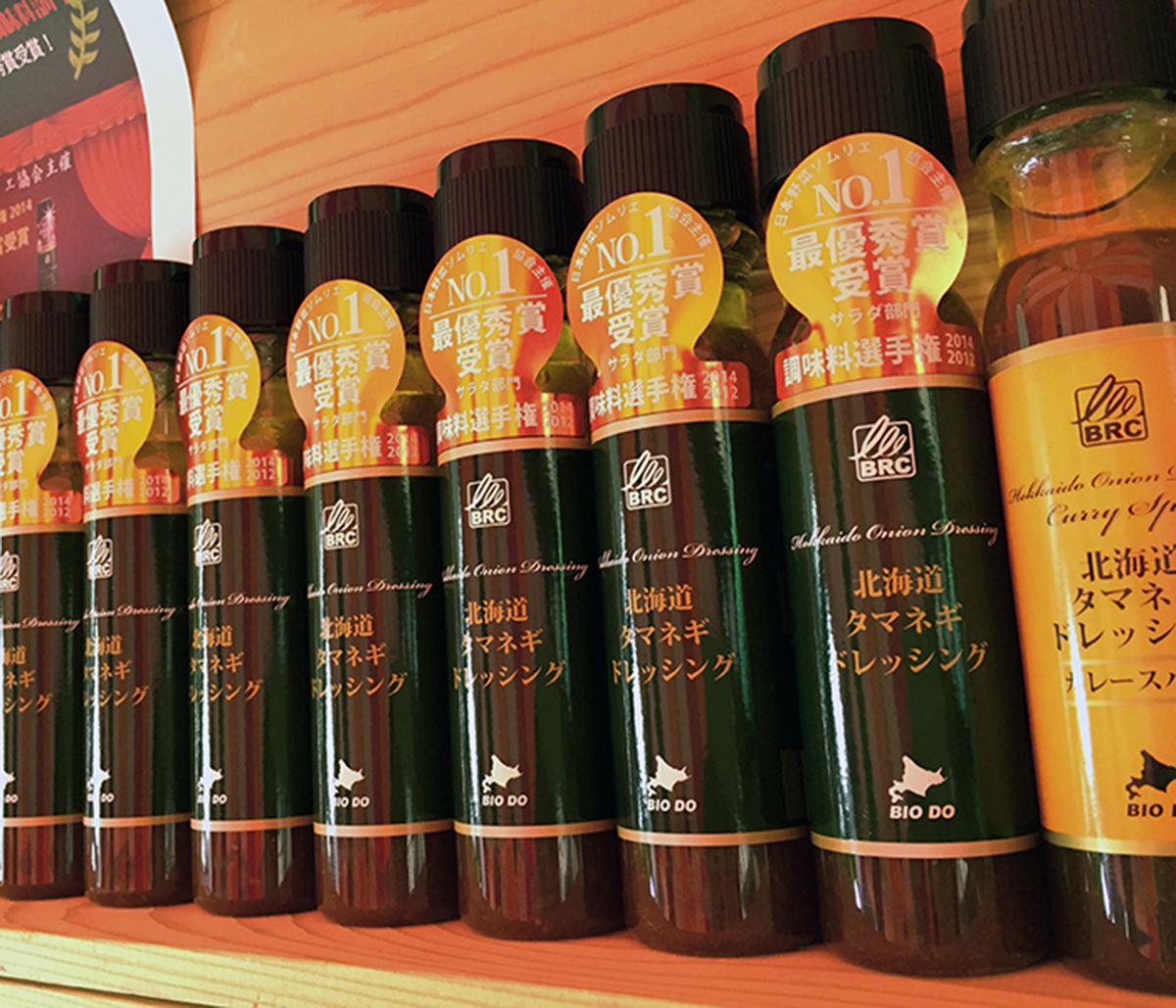 ♦At PR Event, for rich tasting "Hokkaido grown onion dressing" at Hills Marche in Ark Hills, which has been held more than 300 times
"Hills Marche", which is held at Ark Hills Karajan Square, is usually frequented by a lot of foreign families and international visitors since there are many embassies and international hotels located around this area.
"Kitaguni kara no Okurimono" had a booth at Hills Marche in Ark Hills on September 5.
To mark the 300th time the event has been held, a celebration message board was set up.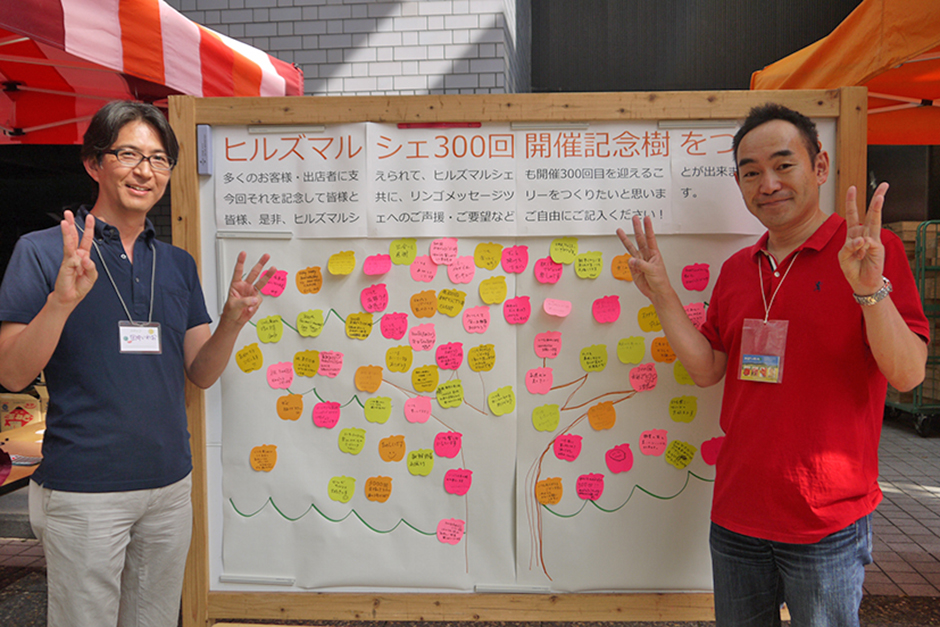 ▲Person in charge of "Hills Marche" from Mori Building (left) and Toshiaki Kato, founder of "Kitaguni kara no Okurimono" (right)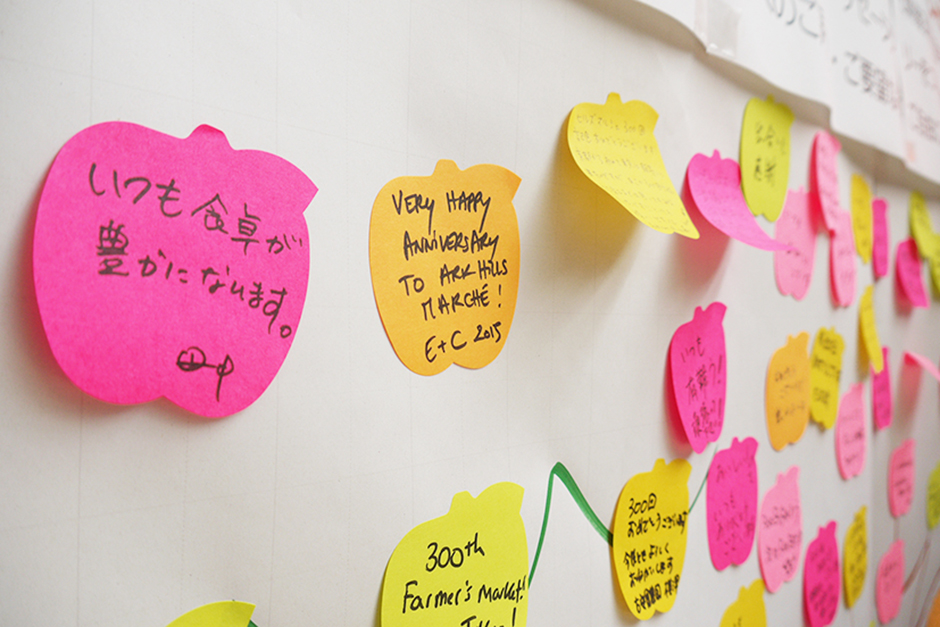 ▲Lots of messages from customers and well wishers for the 300th Hills Marche celebration
The "Hokkaido grown onion dressing" tasting event was held that day in order to develop new products and branding through grasping consumer preferences and market survey, etc.
"Hokkaido grown onion dressing" is made from soy sauce with rich onion flavored juice. This is the supreme one collaborated by vegetable sommelier and traditional soy sauce producer from Hokkaido.
This magic dressing is guaranteed to appeal to anyone, even those who do not like vegetables.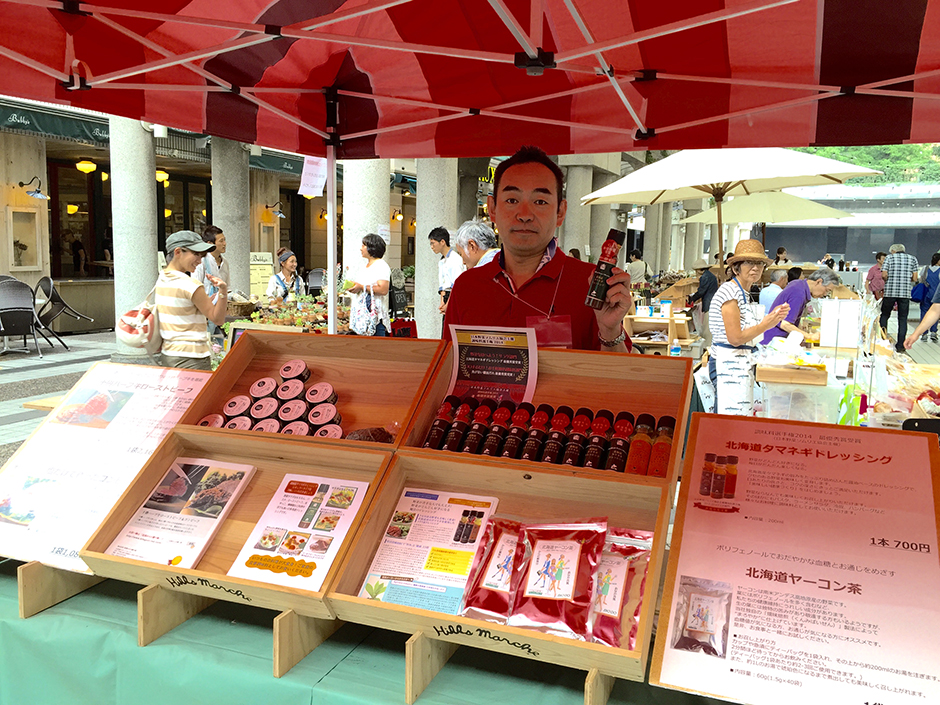 ▲Mr. Toshiaki Kato, founder of "Kitaguni kara no Okurimono" at "Hokkaido grown onion dressing" PR event
♦This dressing can be used not only for salad but also for meat and pasta sauce
Since we provided the sample of "Hokkaido grown herb beef" as the previous event, we recommended this good beef with "Hokkaido grown onion dressing".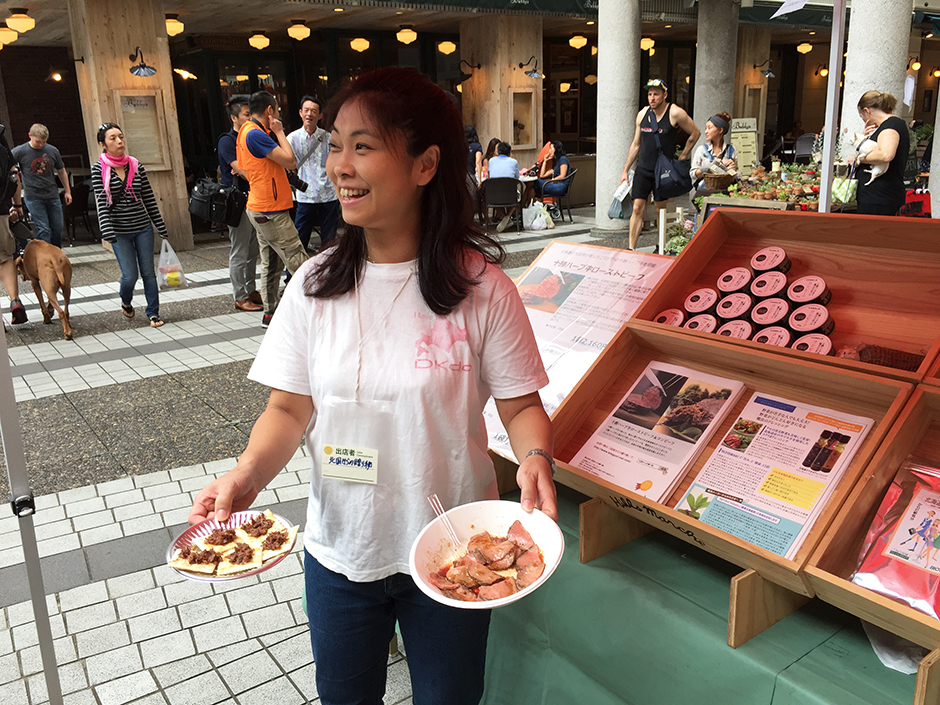 ▲Splendid combination of "Hokkaido grown onion dressing" and "Tokachi grown herb roasted beef"
Customers loved them!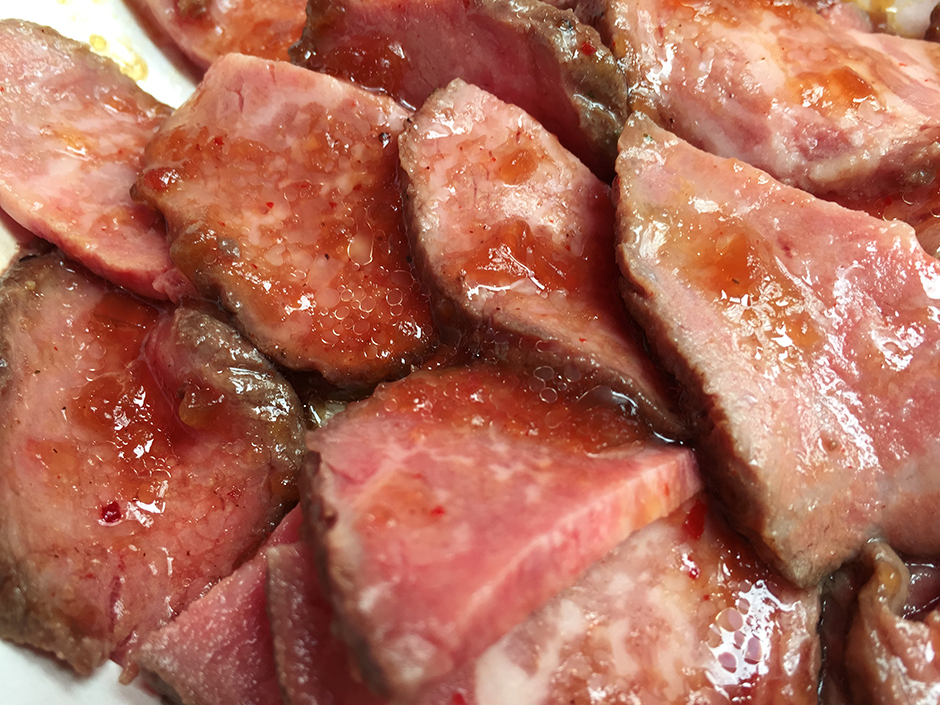 ▲This dressing goes well not only with salad but also with meat.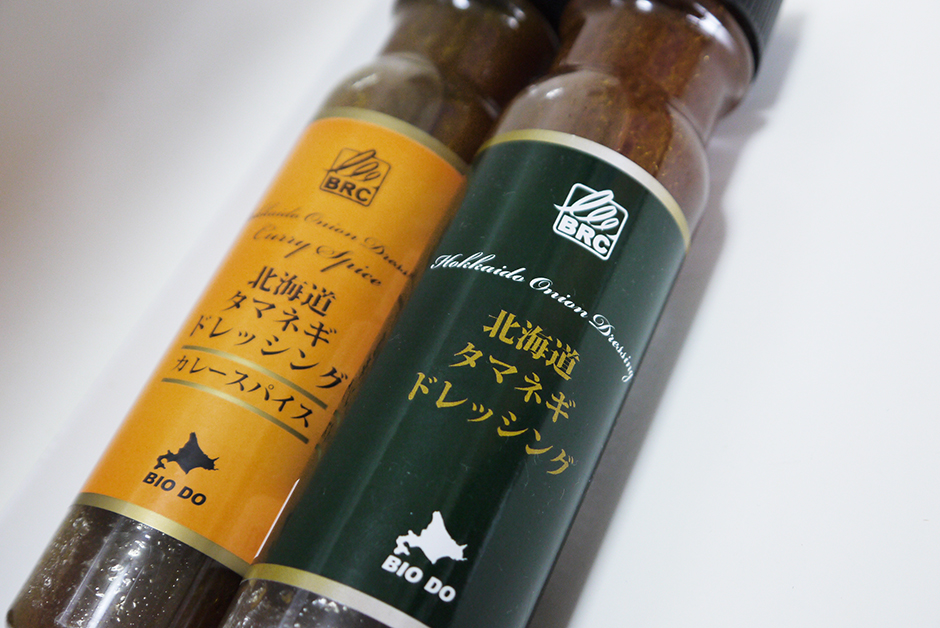 ▲"Hokkaido grown onion dressing" Regular (Right) and Curry Spice flavor (Left)
♦Hokkaido grown "Momiji series onion" is used
Basic ingredient of onion dressing is mainly Hokkaido grown "Momiji series onion", such as "Kita Momiji 2000" or "Super Kita Momiji".
Momiji series onions are bitter. This bitterness component makes your blood flow smoother, so it is very healthy. In addition, this bitterness becomes sweetness when it is heated up, so you can enjoy its sweet juicy taste.

▲It has a mild sweet juicy taste when used in pasta.
♦By using patented BRC process, it has been determined that its juicy (Umami) and healthy attributes are 15 times more than other varieties!
A "sulfuric chemical compound", which makes up the bitter component of Momiji series onion produces a similar effect as garlic and onion fragrance, which in turn has antibacterial and antioxidant activity.
By using patented BRC process, this sulfuric chemical compound has been determined to provide healthy contributions to the human body.
This onion cooked using patented BRC process has concentration of flavors that you can surely taste and differentiate from other varieties.
It tastes amazingly juicy and its sweetness comes from being additive-free.
Another healthy attribute found by the BRC process was that the tissue component provides a "remedy for memory defects".
This is the second patented attribute. Along with antioxidant activity, it can be expected to activate the brain.
♦Plenty of diced cut onions bring out the richness in flavor!
In addition to tasting with roasted beef, we also provided the dressing alone.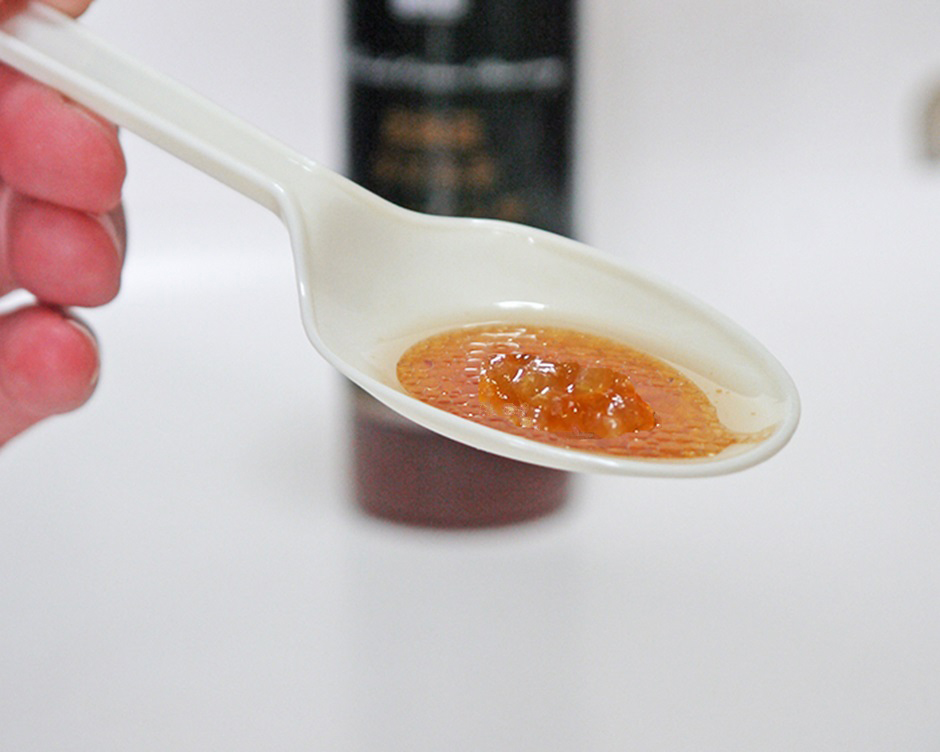 ▲Tasting of the dressing by itself delivers a more pronounced flavor
Some customers commented that, "It has a pronounced onion taste", "rich in flavor", or "tastes like a big chunk of onion".
The secret of its richness and intensity is that there are 50g of diced onions in one bottle.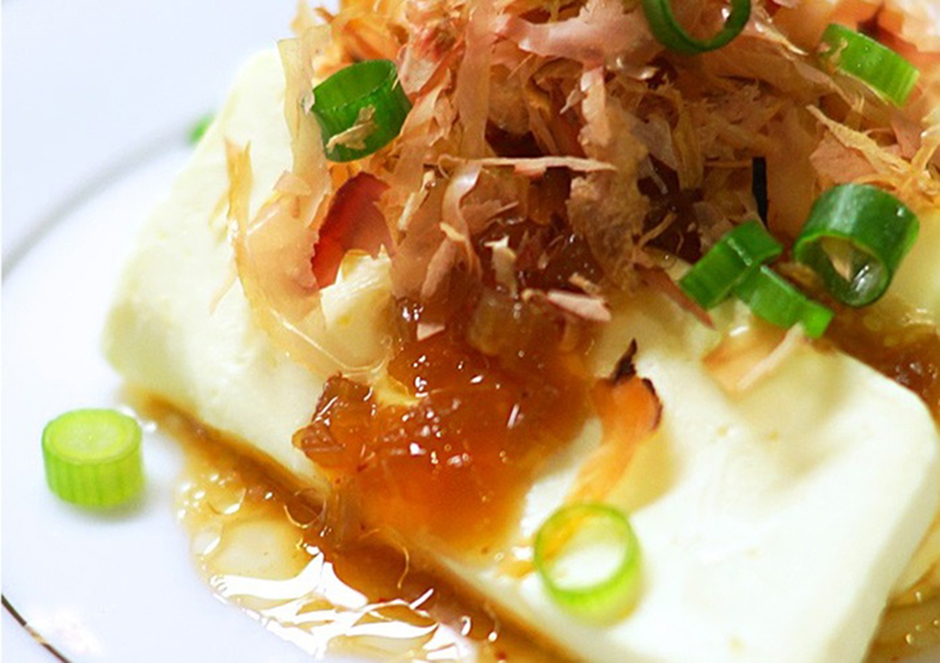 ▲The onion's lumpy texture provides more onion sweetness and flavor
Also, since it has a very rich flavor, some mommy customers said, "kids will be enjoying salad if we use this dressing".
A writer's 4-year-old kid said, "it's delicious!" when eating salad with this dressing and ate more than usual.
We are convinced that this onion dressing won "Salad Sector Best Award" in the Japan Vegetable Sommelier Association Condiment Championships in 2012 and 2014.
We have another flavor, Curry Spice, which is guaranteed that it will be liked by kids and adults.
These can be used not only in salads but also in stir-fried meat vegetables or fried rice.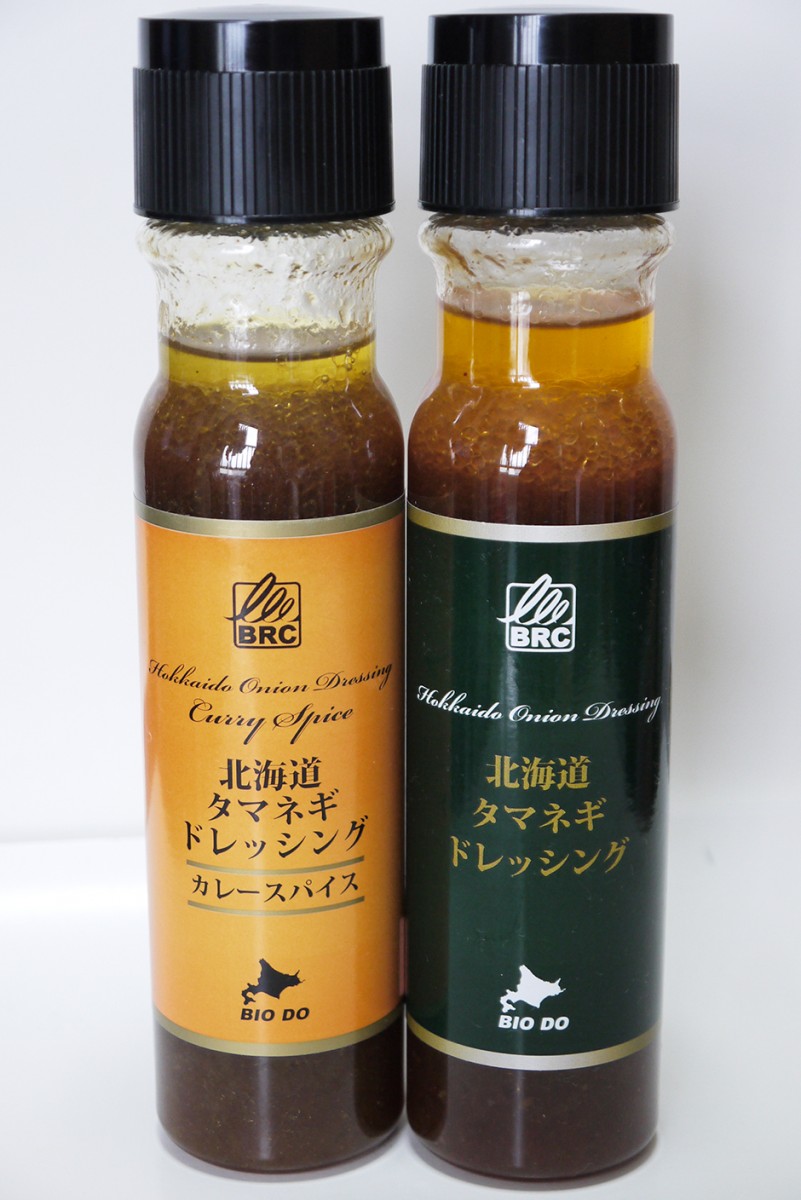 ▲"Hokkaido grown onion dressing" Curry Spice (left), Regular(right)
Suitable even for someone who does not like vegetables! They will surely enjoy and love vegetables!
"Hokkaido grown onion dressing", which is full of Hokkaido blessings, Hokkaido grown Momiji series onion.
Please try this magical dressing and experience of its healthy benefits.
・Hokkaido grown onion dressing 200ml (Regular, Aojiso, Curry Spice) 702 yen (including Tax)
Please check below ↓
■"Hokkaido grown onion dressing" product website :  http://www.kitaguni-net.com/item/4346.html
■"Kitaguni kara no Okurimono" HP :  http://www.kitaguni-net.com/