News&Topics
Latest News from Kitaguni Inc.
INTERVIEW
A buckwheat craftsman flies to overseas! With a challenge spirit, started a business in Taiwan.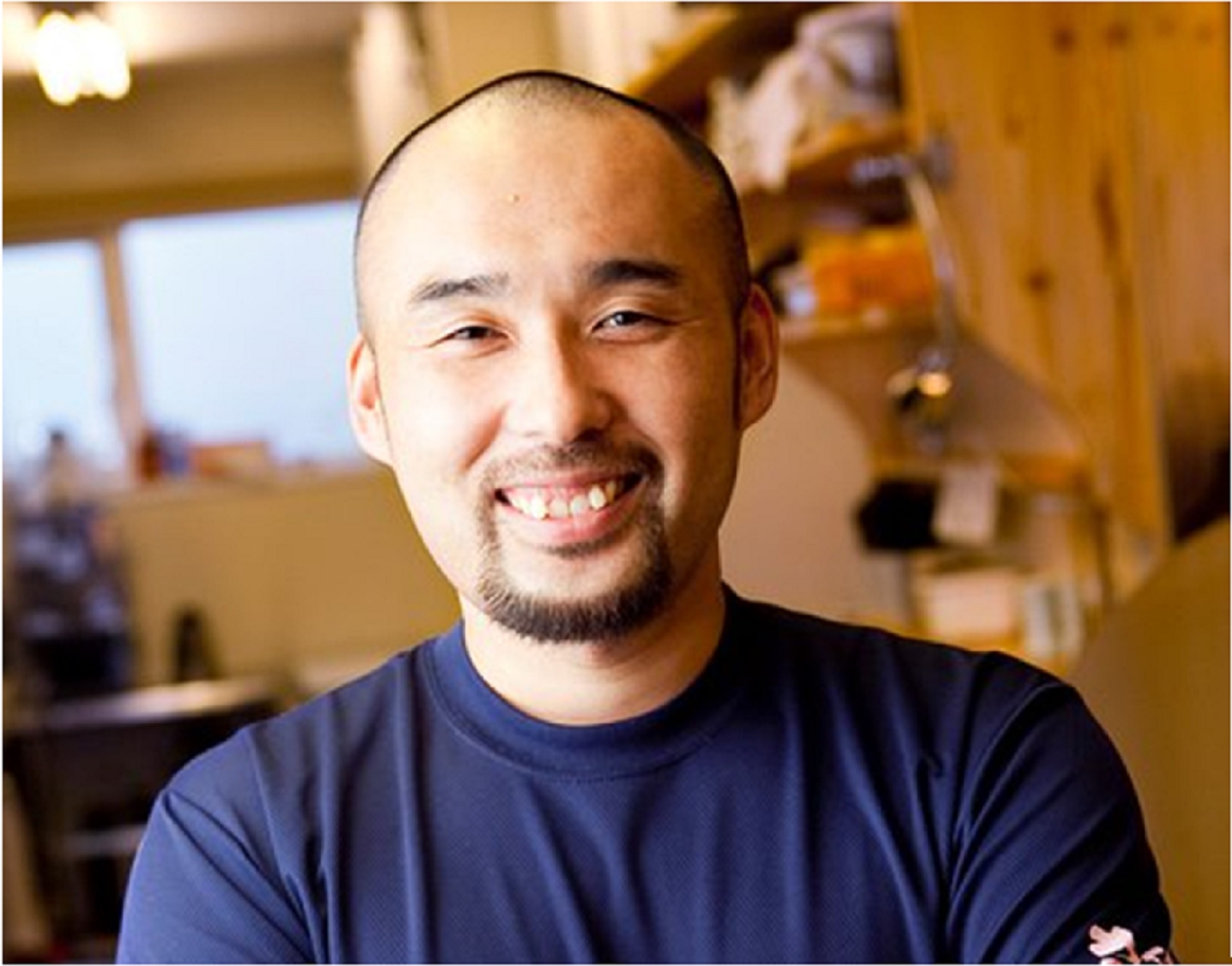 "Hokkaido Showcase" interview
Three Circle Co., Ltd.  Representative director
http://three-circle.com
Mr. Takahiro Miwa
<Profile> Born in Monbetsu Town, Hokkaido (present Hidaka Town)
After graduating from Department of Oceanography, Tokai University, experienced car sales for 4 years at Toyota Vista Sapporo. After that, utilizing the experience of making buckwheat noodles that had been taught since childhood, he started to help his family's soba shop. While he was working for 5 years, he learned the taste of the parents' soba soup and the management skills of the soba shop. In 2005, he opened "hand-crafted soba Sakura" in Sapporo city. Then the number of new shops was increased steadily.
In 2013 he established "Soba Sakura Co., Ltd." in Taipei City, and opened a restaurant there. In 2015, he moved to Taichung City and now expands the place of activity in a wide range of activities including restaurant management, support project for opening stores in Taiwan, interpreter's dispatch, translation, real estate industry, etc.
Early childhood raised by a grandmother who was a real merchant
I was born in Monbetsu, Hokkaido. My parents' home was a buckwheat(soba) shop and was operated by grandparents. When I was born, my mother took over this soba shop because of my grandmother's illness, so I was raised by my grandmother. My grandmother of genuine merchant often told something like "the essence of business ", that is "The business is like this."
At that time I did not feel anything, but now I feel her monologue has become my flesh and blood, and is supporting me. How to make buckwheat noodles was also indoctrinated from around the age of 10, and when I became a junior high school third grade, soba that I made was served at the shop.
In middle school and high school, I only played baseball every day. I went to high school in Sapporo, and university in Shizuoka, but I had no time to become homesick. After graduating from Department of Oceanography, Tokai University, I wanted to return home to Sapporo and I joined Toyota Vista Sapporo. I was in charge of car sales for 4 years. But I quit the company thinking that I was not suitable for salaried workers. Then I returned to my parents' house and started to help the soba shop.
Although making soba noodles was taught from a young age, I did not know anything other than that. So I began with how to make soup stock, and then learned the basis of managing a soba shop thoroughly for 5 years. When I asked myself "what can I do?" I thought that it was running a soba shop after all. So at the age of 31, I opened "Soba shop Sakura" in Sapporo independently.
I want to compete overseas while young
Originally I was overseas-oriented, and since I was 22 years old I went to travel abroad overseas occasionally. Although it was a small trip for 4-5 days, I went mainly to Southeast Asian countries such as Thailand, Malaysia, Hawaii, Fiji, Taiwan, Hong Kong and so on. In addition to listening to other people's stories, I thought that it is important to go to that country indeed and feel the characteristics of the country directly in the skin. When I entered high school in Sapporo, and university in Honshu (Shizuoka), I thought that "the outside world is amazing" and I was strongly motivated to see the outside world.
Thanks to the reputation of "Soba shop Sakura" well, I got the opportunity to make a new shop in Tokyo or Osaka. However "In Japan, I will be able to manage my business somehow if I become old. So I want to go abroad while I am young." I thought about opening a shop in Malaysia about five years ago. Malaysia was popular place of second life after retirement at that time, and my father was also thinking about living in Malaysia after retirement. So I intended to ask my father to become a shopkeeper. However, my father had re-elected as the town mayor of Hidaka Town. And there were terrorism and halal problems in Malaysia, so the plan had been extended.
At that time, someone advised me, "Taiwan has many pro-Japanese and there are many people who like to eat anything. So why not open a soba shop in Taiwan?" There is no country that people eat soba worldwide, and if a soba shop is not good in Taiwan, it is also difficult in other countries. From this point, I concluded that I should try it in Taiwan as a test. I decided to go to Taiwan.
"You cannot win the guy who did it."  Courage to step one step is needed.
4 years ago, I came to Taipei, decided to buy a store building on the spot instantly and went home. There was a "furnished property" left by a major company in Kyushu, I liked the interior of woodgraining atmosphere very much and decided immediately on the spot. Taipei's rent was expensive and I did not know well about Taiwan, but atmosphere was definitely good. I believed in what I feel with my skin. Anyway I would try in Taiwan for 2 years and if it didn't go well, I thought I would return to Japan.
My grandmother also said, "If you want to start a business, wait until you become 30. Once you start a business, do not be afraid of failure." I think this instruction also encouraged me. Slightly cool, "You cannot win the guy who did it." I needed the courage to take the first step, but I had been prepared to do it again if I could not do it. After all, I closed down the soba shop in Taipei after 2 years, changed it to the shop of udon and bowls, and moved to Taichung. I felt it would take more time for the cultures that people eats buckwheat everyday in Taiwan.
At that time, out of the 12 companies from Hokkaido, 6 companies were major companies and the remaining 6 were ramen shops. Our company, that was the 13th one, had no such strengths, so we had to do everything. Rather, I made up my mind that "we will do everything, that is our strength." We worked hard at every work, such as taking time and labor-intensive works that other companies do not want to do, or works requested by government agencies, etc.
About 2 years later, after relocating bases to Taichung City, we also started to accept Taiwanese staffs. As usual, we got offers of tough job as financially, but we ran around in order to fulfill their request.
Future business development
Thanks to that, once one job is over, a virtuous circle has been born that the next job request comes soon. Now, the Taiwanese staffs have grown steadily and it has become possible to advance work as a team with a sense of unity. Anyway, I always ask other experts when I encounter the thing I do not know well. As a result, my knowledge was increased.
I have so much fun doing so. Although there are many failures, I will tell everyone the failure to the open. The other day I gave a lot of losses, but I told it to everyone without hiding.
Today, in addition to restaurant management, we are engaged in support project for opening stores in Taiwan, interpreter's dispatch, translation, real estate industry, etc.  It became exactly, "We will do everything, that is our strength". A new business that I am working on recently is setting up a shop in the night market. Night market in Taiwan is a popular spot. And I made a Japanese village by Japanese companies in the "Fengjia Night Market (Hoko-yoichi)" that is the largest night market in Taichung.
It is probably the first attempt for Japanese companies. So far, so good. The shops are very crowded. It is a time when I feel the hot feelings of the Taiwanese people. I go to see how is going every night. When there is not a salesperson, I myself stand at the shop.
Value your inspiration when you start a new business
Today, I am working with 8 staffs in Taiwan, and 60 to 70 staffs including part-time staff in Sapporo. In Taiwan and Japan, I spend time one half each. In Sapporo my wife is doing all of accounting and labor relation alone. Currently, since the base of the Japanese side is doing well, I think that I can still challenge in Taiwan. I am thinking that I want to enjoy working, but I tend to be persued too much and I appreciate that my wife often successfully pulled the reins.
My grandmother often said, "If you feel a wind against you, you will not be able to push on it, so you should stop. If you feel a wind at your back, give yourself up to the wind. It is the secret of business." Now I feel deeply grateful my grandmother's words.
Also, the first thing you should keep in mind when you decide to do business with Taiwanese people… the speed of work is fast or, in a sense, impatient. Even in negotiations, if you cannot decide on the spot, you'd better think there is no chance next time. Also humility is not good when making business cards and company brochures. It is important to come up with various ideas to make your company's goodness 1.5 or 2 times as well.
It is very important for business to be evaluated your company highly. Then you only have to believe what you feel actually in the field. When I start a new business, I will value my inspiration and continue to challenge from now on.
About HOKKAIDO SHOWCASE
I often have a chance to talk with the government officials and private companies in Hokkaido. I find that they are strongly thinking that they would like to introduce delicious Hokkaido ingredients to the world. And I think that I would like to help to realize that enthusiasm, so if you would like to do business overseas, do not hesitate to ask me. Supporting to deliver good merchandises to the world in a good way, that is my role, I believe.
As for Hokkaido Showcase, I think that it's important to continue as well. Hokkaido gourmet is very popular in Taiwan. Among the Pacific SOGO product exhibitions, the Hokkaido fair has a power to attract customers and is the most popular event.
"Hokkaido International Distribution Organization (HIDO)" puts out cargo positively not from Yokohama and Kobe but from Tomakomai and Chitose. Likewise, I hope that companies in Hokkaido are doing their best and based in Hokkaido, they can deliver world-class delicious goods or products of Hokkaido.
After finishing the interview
Mr. Miwa is a comrades of "Hokkaido International Distribution Organization (HIDO)" to which we "Kitaguni kara no Okurimono" belongs. He turned his shine eyes to me and talked about his passion towards the future Taiwanese business. "Three Circle" of company name comes from Mr. Miwa's name, but more than that there is a business philosophy of "Triple win (Sanpo yoshi)".
Based on this philosophy, Mr. Miwa is working hard on a daily basis. That's why he has accepted warmly by Taiwanese people, I thought. "Deliver Hokkaido food ingredients to the world." "Delicious food makes customers smile." As he has the same strong feelings as ours, I am convinced that he will be a confident partner for us.