News&Topics
Latest News from Kitaguni Inc.
INTERVIEW
Tokachi grown herb beef: Passion of farm producer in a nature-rich environment in Kamishihoro town (2015/9/30)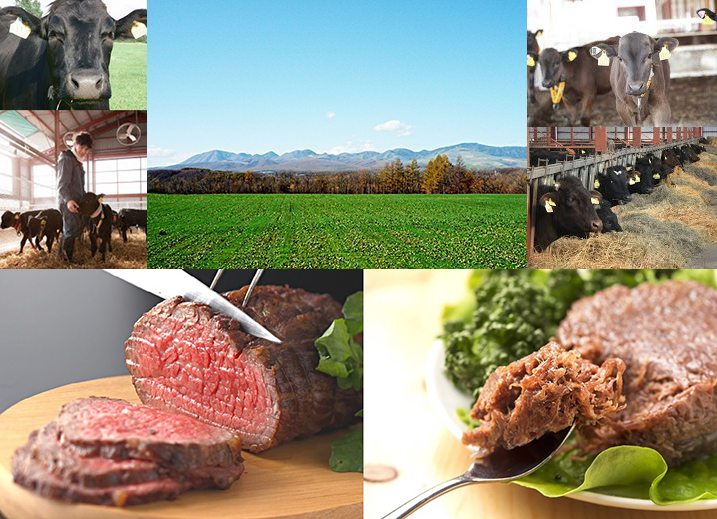 ◆Good marbling and tasty lean meat resulting from long term fattening
"We have been utilizing 'Issan tori fattening' in order to deliver delicious meat to everybody." said CEO Mr. Yuichiro Enyo at Nobels Co., Ltd.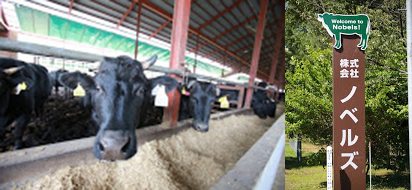 Nobels Co., Ltd., Located in Kamishihoro Tokachi Hokkaido established "Issan tori fattening" for the first time in Japan in order to offer not only marbling meat, which tends to be big and popular among meat lovers, but also more delicious lean meat.
Generally, it takes 26 months of fattening and then releasing the beef, but we fatten the cow for 32-33 months in Nobels and we release mother cow after giving birth.
Of course it definitely tastes better when the cow has been fattened longer but it costs more. So we have come up with the idea of selling baby cows at a high price to cover the fattening costs.

♦ Focusing on making good tasting lean meat, not marbling meat
The basis of being delicious Japanese beef is the amount of fat and glossiness, not its taste.
If there is consistent amount of fat on the beef, it gets certified A4 or A5 which is very high rank.
Being with fat means a lot of marbling, which has been one of the best attributes of beef and is supposed to be a general statement.
However, Nobels has been focusing on making lean meat for years even if people believed that marbling meat was the best.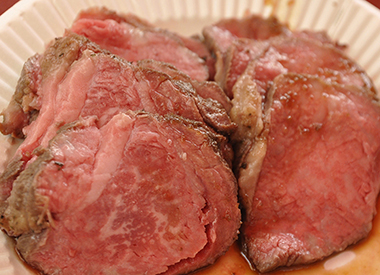 These days, people prefer delicious lean meat over marbling ones as it is healthier.
Growing this particular beef takes more than 32 months of fattening with lots of tender loving care as if it were a family member then until it becomes one of the best beef with natural fat and consistency.
The cow that Nobels grows are mixture of Holstein cow and Japanese crossbred cow which brings together "the best marbling part from Japanese beef" and "the best lean part from Holstein", such that this meat tastes really good with bit of marbling.
♦The cows are grown healthy with eating 17 different kinds of herbs
Since it is getting popular among people nowadays that having herbs can be healthier, it seems that is the same for cows. Herbs gives them more appetite, aids digestion, and they grow better and healthier.
The cows also will become organic without taking antibiotics.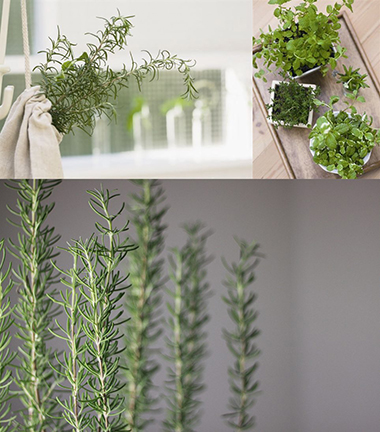 ♦Tokachi grown herb beef is raised in a relatively colder location in Kamishihoro town in Tokach, which is also rich in nature
Kamishihoro town is located in the northern part of Tokachi region. It is on the eastern side of the biggest national park in Japan called "Mount Taisetsu National Park". With a population of 4882, this town is the closest place to Mount Taisetsu and it is very rich in nature, with forest covering roughly 76% of the area.
The main industries of this town are animal husbandry, farming and forestry. It is also famous for hot springs such as "Arunukabira hot spring" and "Horoka hot spring".
It is also famous for having the biggest common raising farm in Japan called "Naitai highland farm". Another famous Hokkaido heritage sightseeing spot is the "Former National Railway Shihoro Line Concrete Arch".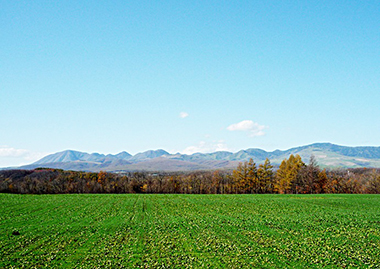 Since this place has a huge difference in temperature between summer and winter — over 30 degrees in the summer and goes to below -20 degrees in the winter — most of the grown agricultural crops are tasty.
With the accumulation of a lot of snow, the soil gets more nutrition thus providing good condition for plants to grow.
It gets 20-degree nights even in midsummer which are not as humid as mainland Japan providing a stress-free environment for one to survive the summer time.  Shihoro town is such a perfect place with Mount Taisetsu river water, clean air and rich firm ground.
The cows have river water and nutritious Hokkaido grown grass as their food so they become even healthier like human beings.
♦The attractive point of Shihoro town from Nobels CEO's view
Mr. Yuichiro Enyo, Nobel's CEO, grew up in Kamishihoro town and he loves cows since his family owns the farm.
He went to Nebraska USA for farming training for a year after graduating from high school.
He took over his family business after coming back from US.  He set up Nobels Co., Ltd. to engage in cow breeding and fattening.

Mr. Enyo's favorite things about Kamishihoro town are temperature difference between summer and winter, having 4 seasons, and a beautiful sky with millions of stars. Sometimes, it is like watching diamond dusts in the sky.
Since this town is located at the base of Mount Taisetsu, it is surrounded by rich nature and common raising farm called "Naitai highland farm", the biggest such area in Japan.
It also has a great view of the Tokachi plains.

One famous event that many people go to Kamishihoro town is "Hokkaido balloon festival".
Nobels Co., Ltd. participates in this big event by selling Tokachi grown herb stake on sticks. This is Nobels' CSR(Corporate Social Responsibility) initiative in the local community.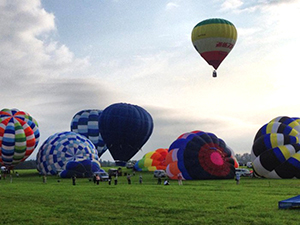 Rich flavor of lean meat and good contrast marbling, long term fattening, 17 different kinds of herbs, uniqueness of Kamishihoro town, lots of loves to cows from producer. These are the factors which make Tokachi grown herb beef tasty.
・Tokachi grown herb roasted beef 200g ( with sauce , western wasabi)      2,160 yen(tax included)
・Tokachi grown herb beef corned beef 95g       1,080 yen(tax included)
■Tokachi herb beef product HP:  http://www.kitaguni-net.com/item/item.php?item_base_id=4736
■Kitaguni kara no Okurimono HP:  http://www.kitaguni-net.com/