News&Topics
Latest News from Kitaguni Inc.
INTERVIEW
Giving it a twist to see Japanese products in Singapore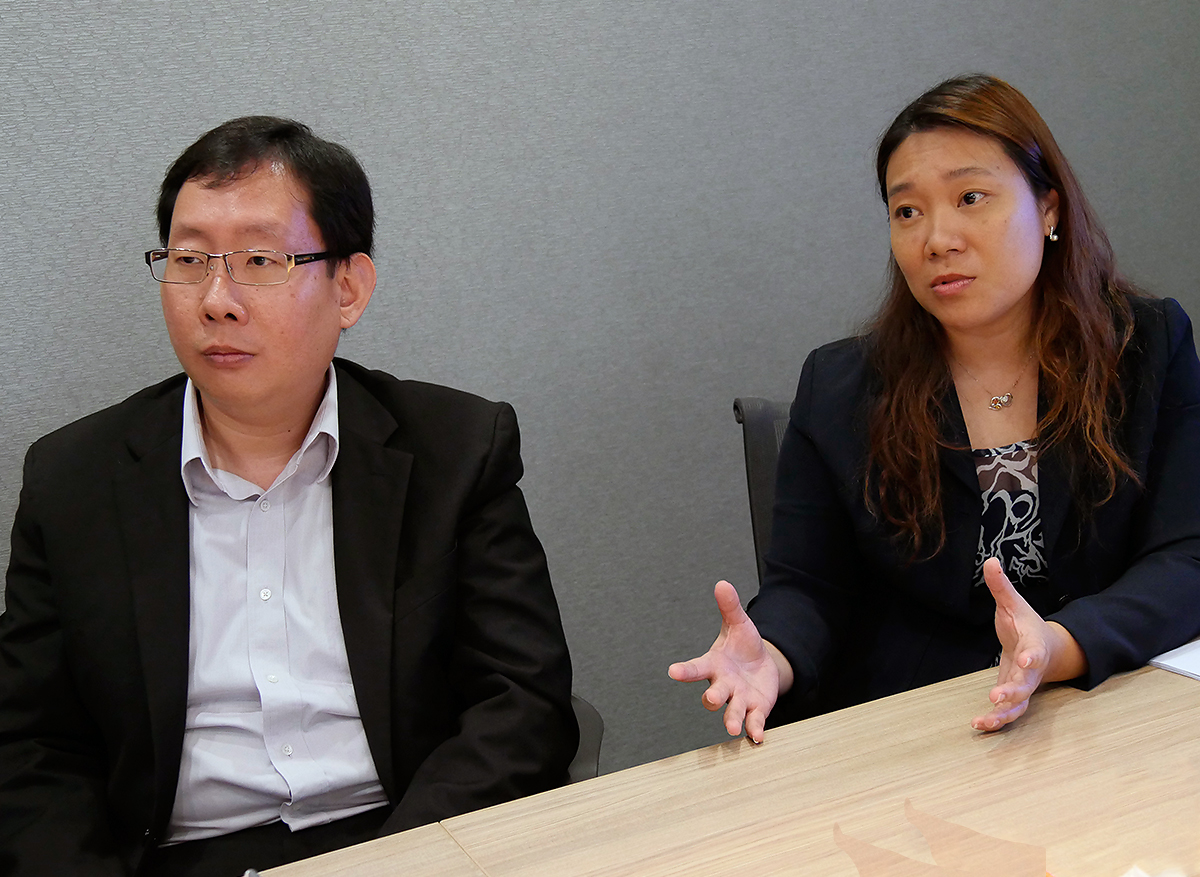 "Hokkaido Showcase" Interview
Furlaun Pte Ltd
Cosmetics and Food distributor
Francis Chia and Janice Ong
Interested in selling soup and jelly from HOKKAIDO SHOWCASE
We are currently running a business of distributing cosmetics and food in Singapore.
We have realized that there are so many low quality, high priced products sold in Singapore. We want to introduce and sell more high quality products to the Singapore market. We moved from Germany to Singapore.
Currently, we are carrying more Italian and French cosmetics than Japanese products. We got interested in Japanese ones since we visited "Hokkaido Fair".
There we found soup, jelly and sugar scrub from HOKKAIDO SHOWCASE.
Since Singaporeans are busy, we thought that easy to cook soup and jelly are very attractive for the market and meet its needs.
In the case of scrub made out of sugar, given the popularity of salt scrub, it is quite unique and very attractive, with the particles being very smooth and can be absorbed more into the skin.
Since Singaporeans are very interested in skin care, we are very positive about the prospects for this product and want to carry it.
Halal processed and long shelf life food is the next target
We have an image that "Japanese food is quite difficult to handle" for Singaporeans.
For example, in the case of cosmetics, a Japanese product is very expensive.  Also the name of the brand is difficult to pronounce. Furthermore, since the labels are not usually written in English, we have no clue how to use the products.
With a Korean product on the other hand, it is not only cheap but everything is also written in English.  It also comes across as trendy since they use celebrities for PR.
It is very important to consider factors such as age group, race, and religion if you want to promote Japanese products in Singapore.
There a many muslims in Singapore and Halal processed food is what they buy.
Also, we found out that the shelf life for Japanese products are usually short: like 6 months. That is a problem since longer shelf life is practically the definition of processed food for a Singaporean.
The background of why we prefer long shelf life is that "we are always aware of the possibility of being attacked by another country anytime in the future again".
Therefore, we always like to keep food at home which can last long, at least up to say 2 to 3 years.
As for packaging, Japanese ones are usually smaller than other foreign products, even if the amount of the content is the same inside. It is definitely better to use bigger packaging.
Singaporeans are strict on pricing
Singaporeans love Hokkaido and most of them have been there for holiday. Even if products are expensive there in Japan, they buy since they are traveling. But they would not spend the same amount in Singapore. They are always concerned about how much they spend so price will always be an issue.
If they spend more for Japanese products in Singapore, they would rather ask getting the products through their friend or relatives who will go on a trip to Hokkaido.
On the other hand locally available Korean products are very popular since prices are affordable for Singaporeans. For instance, sales of Samsung mobile phones and electronics are booming these days. People recognize Korean products as not " high quality" but "good quality" with affordable price, thus the popularity here.
Everybody thinks that "since there are many high-income people in Singapore, they will buy expensive products", but that is not true.
Even if they have high income, there isn't much left after settling CPF contributions, rent, education, and transportation expenses.
Since Singapore is multi-ethnic country, we are naturally born to compare products in terms of price too. That means we go everywhere looking for cheaper ones even if the price difference is only 10 cents.  So pricing has to be given careful consideration.
Marketing strategy that fits their lifestyle
It is very important to have a strong marketing strategy for HOKKAIDO SHOWCASE that fits the Singaporean lifestyle. For example, children are excited about the sticker that comes with popcorn, not popcorn itself. In the case of Mcdonald's, children want the toy that comes with hamburger, not the hamburger itself.  Therefore it is a great idea to add giveaway items to products, such as adding nail polish for office lady, in order to compete with Korean products.
"Pricing" is an important factor too. With many people not cooking at home and eating outside in food courts where they can eat very cheaply, pricing becomes a major consideration if you want to target this market.
As for selling health supplements, Singaporeans do not easily believe how it works on their body as advertised since it usually takes long time to see the results. It would therefore be a good idea to provide samples and lower the price in order for the customer to use it longer. Singaporeans will use a product for a longer period once they develop a liking for it and they will also spread information about it by word of mouth. That is why pricing is one of the most important factors to consider.