News&Topics
Latest News from Kitaguni Inc.
INTERVIEW
High expectations for HOKKAIDO SHOWCASE means that it has big potential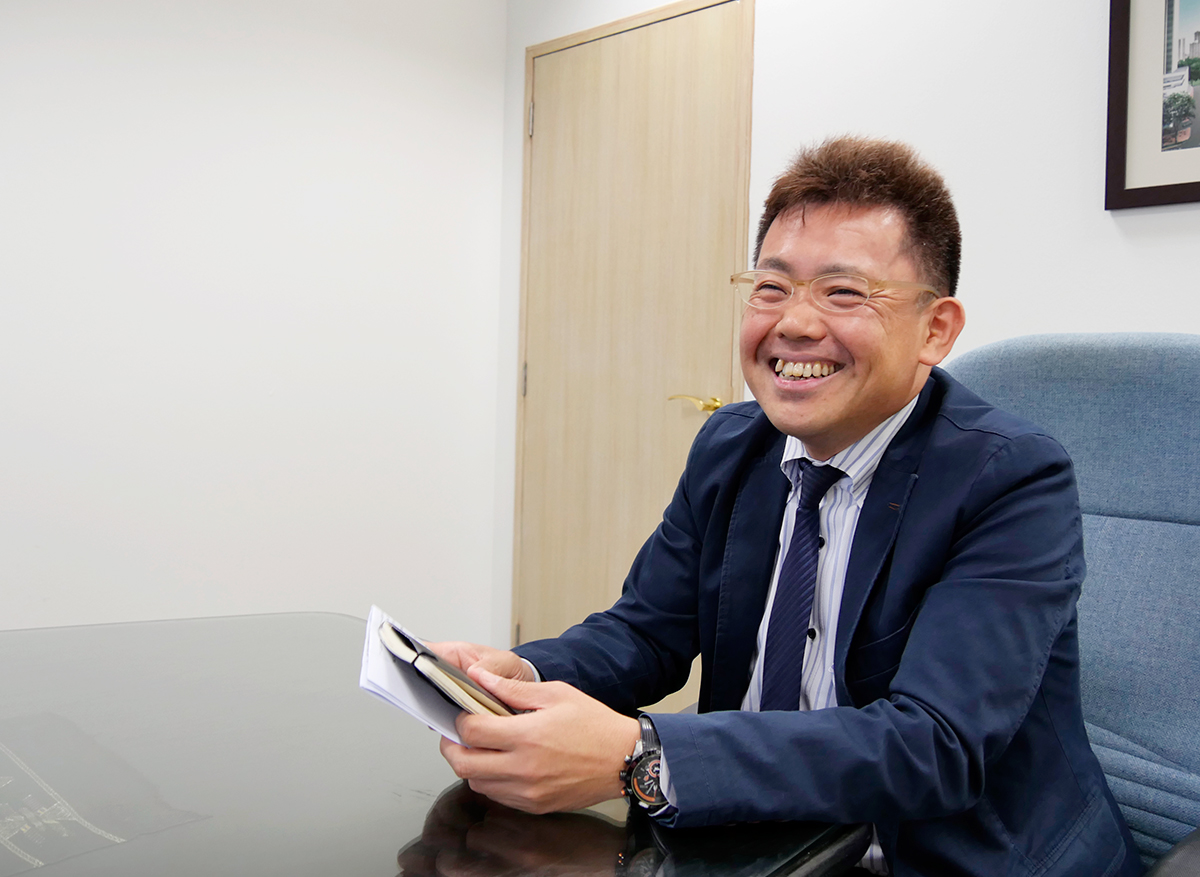 "Hokkaido Showcase" Interview
Takashimaya Singapore Food division Director
Satoshi Mita
Trust and Branding are the most important considerations for Singaporeans
I started working for Takashimaya Singapore since 1990. I have worked for 20 years at the Yokohama branch and 5 years for the Singapore branch as a Director of the food division.
So I have been dealing with food at the Takashimaya department store for a total of 25 years by now.
Takashimaya's main policy, which is "service for the customers", is basically the same in both Japan and Singapore. This means that we provide excellent service not only for wealthy customers but also for all other customers who come and visit Takashimaya.
Since the types of customers are different by area, that impacts the way we conduct business in each market.
Therefore we have to analyze the market by "looking at" the customers' needs and " listening" to them in order to understand them better.
It is most important for us to see the customers appreciate our products and service, and we listen to customer feedback, even the negative ones.
These feedback cannot simply be gleaned directly from answers to questionnaires. They have to be deduced sometimes from other types of customer interaction.
Since there are many Chinese in Singapore, "Trust" and "Branding" are most important considerations for serving them satisfactorily.
When we opened the Takashimaya Singapore branch, the business went through difficult times in the early days and people often asked us " when do you close?" We clearly did not understand the difference between Singaporeans and Japanese.
We have seen many department stores close down. We realized then that "we have to change" and proceeded to develop our original merchandising strategy for Singapore.
It has been 22 years since we opened Takashimaya Singapore. Thankfully we have grown our business and we are now known fondly by our nickname "Taka" among Singaporeans.
The floor must be set up by Department floor and by the item producer
The products that I can recommend to the customers as a buyer is one which is not only good but also has to be very competitive in Japan in its own right.
It would be very difficult to sell a product here that by itself is not salable in Japan.
Even though there will be exceptions, this is generally the case.
Another important thing is that the item producer has to have the same corporate policy as Takashimaya.
Therefore, when I first meet the item producers, I always ask how they came up with their product and hear their story behind it.
I often make a decision to work with them when I can see that they have a same sales and product philosophy as we do.
I met Mr.Kato when he joined our Japan Fair. He is not only good at talking about himself and his business but he is also good at listening.
His sincere attitude is definitely in line with what our customer's expectations.
Most Singaporeans have a rather unusual "attraction" towards Hokkaido since they live right on the equator where they can't experience touching snow.
The tropical islands of Hawaii are the similar objects of adoration for Japanese.
Singaporeans are also curious to experience Japanese hospitality and service and "food", which is directly sourced from the farm.
HOKKAIDO SHOWCASE selling space has a good chance of being well received since it comes across as heart warming
Since it is already the 4th time that HOKKAIDO SHOWCASE has had their fair in Takashimaya Singapore, it is now certain that people in Singapore are very welcoming of the event.
One can see that clearly by observing that the staff from Hokkaido who come here talk directly with Singaporean customers.
The way that Japanese staff talk to customer like " welcome to our shop" and " these  products are delicious please try" is more important than just simply showing the products displayed on the shelves. Even though their English is not perfect and they mix their conversation with Japanese, that usually gets more customer attention.
Therefore I think that the two key elements for gaining customers' trust are product and customer service.
The staff members of HOKKAIDO SHOWCASE have the excellent ability of explaining their products and service, and they now have a deeper understanding of the Singaporean market and Takashimaya. These are reasons why there are many repeat customers.
Many of our customers actually give us the comment that " I am very happy purchasing the product from you".
We at Takashimaya strongly recommend our products which are not only salable but also have stories behind them. This means that more than half of the products are sold due to the sales service that goes with it.
Since many customers visit Hokkaido after purchasing from HOKKAIDO SHOWCASE, it is very important that the products that customers see or buy here first are seen as having quite a local popularity in Hokkaido as well when they see them there. It is for this reason that we cannot just carry any Hokkaido product.
The important thing is to convey " the story behind the product"
Since HOKKAIDO SHOWCASE has a big potential in the future, the project proponents better pay more attention to other shop staff services in Takashimaya.
There will be lots of tips for learning how to deal with the customers, how to talk to them and how to be one step ahead in convincing the customers to try the food by watching other shop staff do it.
It is going to be the same way to watch and research the other shop displays and POP.
You have to think about making more attractive displays that are eye catching to customers, not only about putting the products in a neat way on the shelves.
These are just some of the techniques for selling more products effortlessly.
I often advise the item producer not to overdesign the package.
The most important message is not the packaging; it is the products itself inside the package.
For example, one way is to show the customer the scenery behind the product, that it is grown in such a location where there are four different seasons, by using different elements other than packaging.
The important thing is to convey " the story behind the product" to Singaporeans who already have a strong adoration towards Japan and Hokkaido.