News&Topics
Latest News from Kitaguni Inc.
INTERVIEW
"Continuance" is the key factor for success of HOKKAIDO SHOWCASE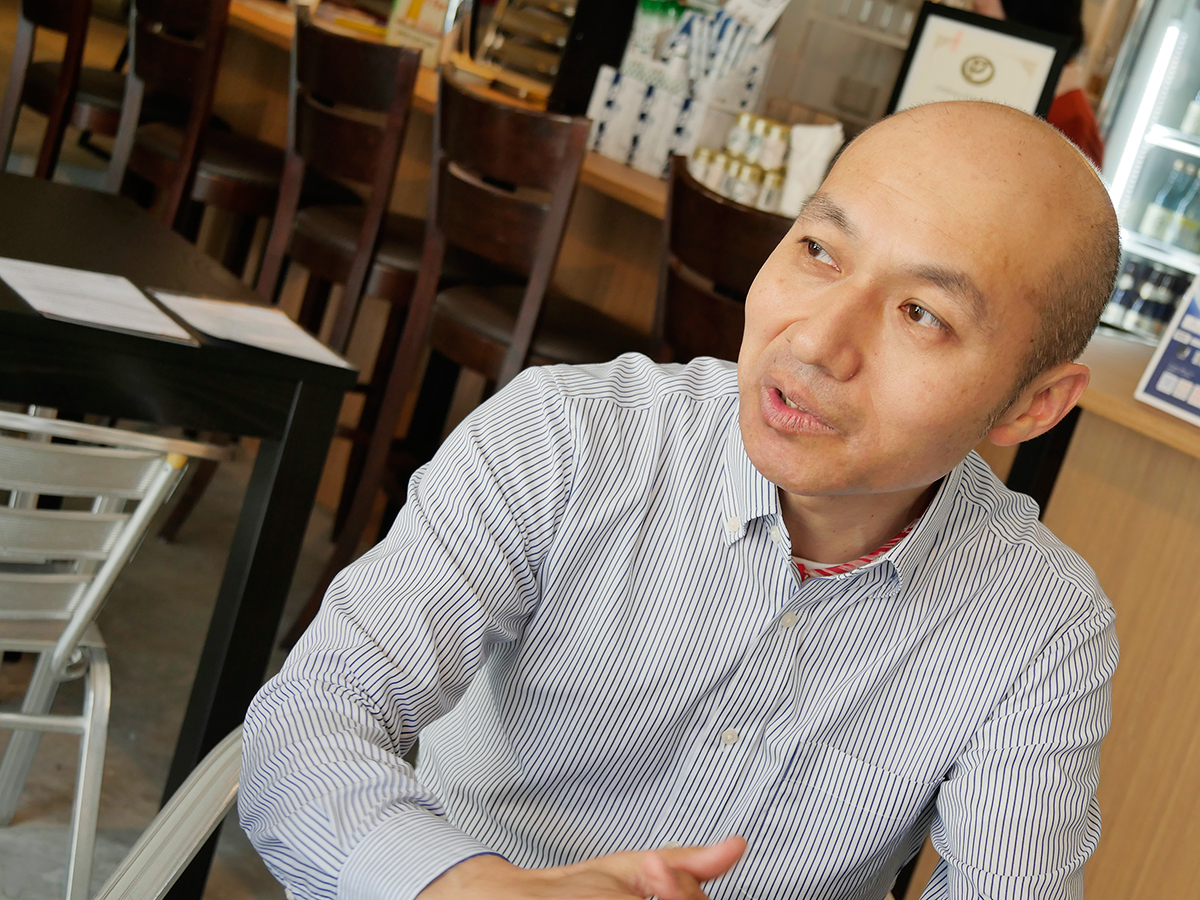 "Hokkaido Showcase" Interview
CURETEX CORPORATION Overseas Div. sales manager
IPPIN CAFÉ BAR Manager
Satoshi Sasagawa
"IPPIN CAFÉ BAR" is to introduce "one of a kind" showcase from Japan.
IPPIN means "one of a kind" in Japanese. IPPIN CAFÉ BAR has a unique system of collecting various specialties from all over Japan and offering them to customers to try.
This café is aimed at spreading the excellence of Japanese products to everybody abroad.
For example, in the case of specialties such as dried marine products and scallops, which are not yet well recognized abroad, we are trying to focus on promoting and selling them through small and medium sized enterprises.
I have the roles of both foreign sales manager at CURETEX CORPORATION which carries rice paper fiber, and manager for IPPIN CAFÉ BAR.
My mission is to tell the people abroad not only how great Japanese traditional rice paper is but also how great MADE IN JAPAN products are.
Most of the products are not from big business establishments. They come from small and medium sized enterprises.
We would like to keep getting more great Japanese specialty products which have not yet garnered international recognition and promoting them to the rest of the world.
"Japanese food" has the image abroad of being healthy and safe
Since we opened IPPIN CAFÉ BAR here in Singapore, we have been made aware that the image of Japanese food among Singaporeans is that of being healthy.
Singaporeans love eating out. They usually eat out or take home hawker center food, three meals a day, and eat with family members.  This means that they are often taking food with high calorie content and high cholesterol, which are generally accepted to increase the risk of diseases among adults.
On the other hand, people generally recognize Japanese food as being the complete opposite in terms of being healthy and safe.
Therefore many people are interested in having Japanese food such as Sushi, Tempura, Soba and Udon for that reason and the number of Japanese restaurants are increasing everyday.
But we are a bit concerned that Singaporeans also feel that Japanese food, in term of cost, is not cheap.
In an IZAKAYA Japanese people normally enjoy both food and alcohol. Singaporeans, however, enjoy food and alcohol separately in different places, which means they will take food first in one place and move to another location for drinks.
So the idea of having Japanese meal and alcohol together in the same place is going to be a challenge in Singapore.
Singaporeans are excited to see the snow and cold weather in Hokkaido
For Singaporeans "HOKKAIDO" is always associated with snow and cold weather, which they never have in their country so they truly get excited about that.
You can always find some winter clothing such as coats in shop displays towards the end of the year in Singapore, which means people are wishing to go on a trip to a winter destination by wearing these. There is indeed a strong aspiration for Hokkaido among Singaporeans.
As most of the Singaporeans love eating seafood as much as Japanese do, lots of seafood such as scallop and shrimp are sold in the market.
Especially since it is the Chinese New Year celebration season at the moment, there are lots of fishes and dried seafood which is not usually seen in the market.
There is quite strong potential for Hokkaido products to be sold in Singapore.
How to continue HOKKAIDO SHOWCASE and get recognition for them
We often discuss among our staff how to get more recognition for HOKKAIDO SHOWCASE. During these discussions, we have concluded that it is very important to keep holding the fairs on a continuing basis.
Even though there are a few Japanese department stores that have been holding Hokkaido Fair quite often with great success each time, this latest opportunity is ending in a week's time.
We do not want to have the same experience as imported pomegranates from Israel which were featured prominently in the media and sold a lot during similar promotional events, but disappeared completely from the market after a while.
That is just like a one time fireworks display.
Since Hokkaido itself is already a brand here, we have to come up with plans on how to continue this project for a longer period and get longer term recognition for Hokkaido products.
It is important to think about how HOKKAIDO SHOWCASE can get deeper into Singaporean lifestyle, even if it costs more time and money.