News&Topics
Latest News from Kitaguni Inc.
EVENT
Mid-Summer Hokkaido Marche: Tokachi grown herb Roast Beef and Corned Beef Tasting Event (2015/8/22)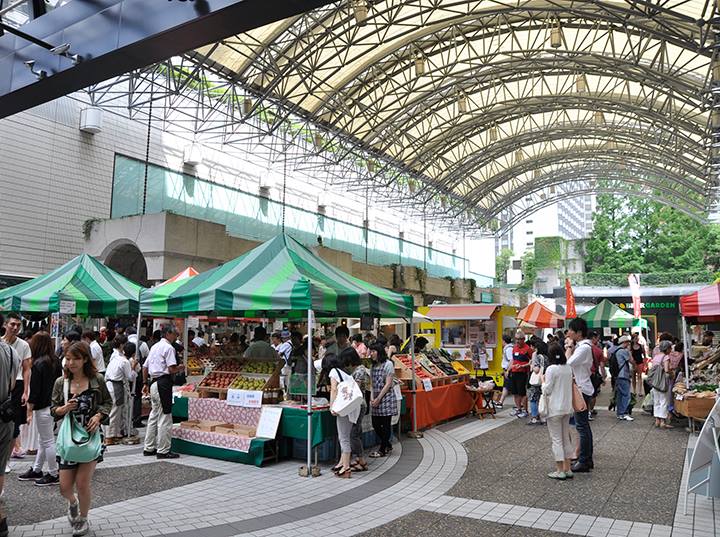 【August 22 "Tasting Event for Tokachi grown herb Roast Beef and Corned Beef" at "Midsummer Hokkaido Marche"!】
♦Hokkaido Brand PR Event for "Tokachi grown herb Beef" at Tokyo Roppongi Area
"Marche Japon" was started in 2009 with the support of the Ministry of Agriculture at 8 different locations in Japan for local community markets.
"Hills Marche" is held every Saturday at Ark-Karayan Square in Akasaka, Minato-ku, Tokyo, that is the Roppongi venue of Marche Japon. The area is known to have a large concentration of foreign embassies and international hotels.
There are many foreign families and it has a very international atmosphere.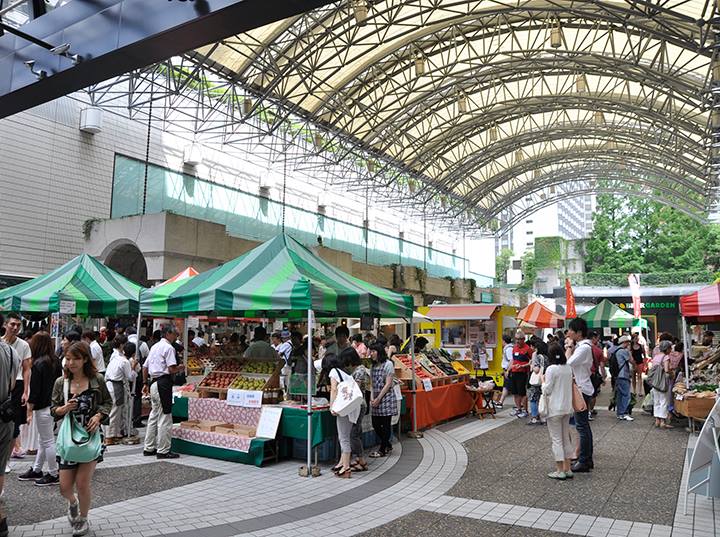 ▲"Hills Marche" at Roppongi venue of Marche Japon in Ark Hills Carayan Square
We, "Kitaguni kara no Okurimono", held a Tasting Event on August 22nd for "Tokachi grown Herb Roasted beef and Corned beef" at the "Mid-Summer Hokkaido Marche" booth hosted by DKdo Produce Co.,Ltd.,  in order to investigate what sort of customer there will be and to conduct research for branding purposes on new products.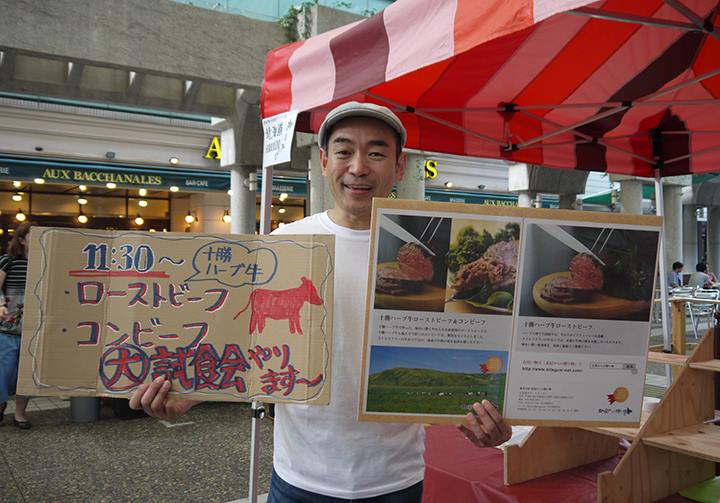 ▲Mr.Toshiaki Kato, founder of "Kitaguni kara no Okurimono"
Many customers came to taste Hokkaido Brand "Tokachi grown herb beef", Hokkaido branded.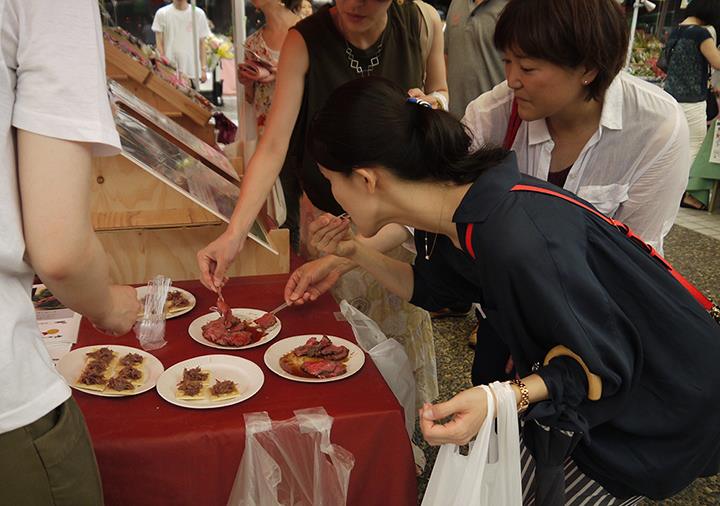 ▲Many people gathered as soon as we provided plates of tasting beef on the table. It shows how popular Hokkaido brand is.
♦ "Tokachi grown Beef"  is grown in great Hokkaido Nature
"Tokachi grown herb beef" is grown at the farm run by Nobels Co.,Ltd. in Kamishihoro town at Tokachi region, where it tends to be relatively colder than other neighborhoods. This particular Japanese beef comes from Japanese black cattle and Holstein cow which are raised breathing clean fresh air, drinking Mt.Taisetsu river water, and eating 17 different herb-mixed food.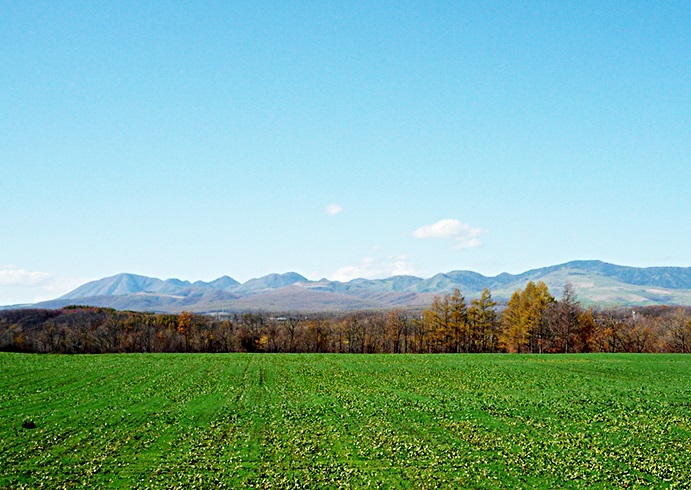 ▲Kamishihoro town is a relatively colder area in the Tokachi region and is supposed to be an ideal place for cows that do not prefer hot weather.
These cows are taken care of one year longer than the usual rearing method, with tender loving care as if they are  family members.
These cows are fed with Hokkaido grown best quality grass, straw, and 17 different herb-mixed food so that they become healthy and produce lean meat with delicious and extraordinary taste.
♦ Japanese beef grown with 17 different herbs is tender and juicy
The herbs contribute to "mitigating digestive organ activus", "peace", "good nutrition",  "lack of stress" and so on.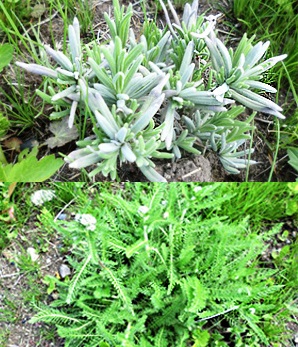 ▲17 different herbs include, among others, anise, casis, cinnamon, celery, ginger, thyme and lavender.
By eating herb-mixed food, the cow has increased appetite, will be more healthy and grow up well.
Their immunity against diseases also gets stronger, thus producing more safe and secure meat.
The meat thus become more tasty, with no unpleasant odor with and more juicy (umami) taste.
♦ Tokachi grown herb beef's lean meat is its strongest attribute
Roasted beef has a fine texture, velvety and has a very pleasant taste.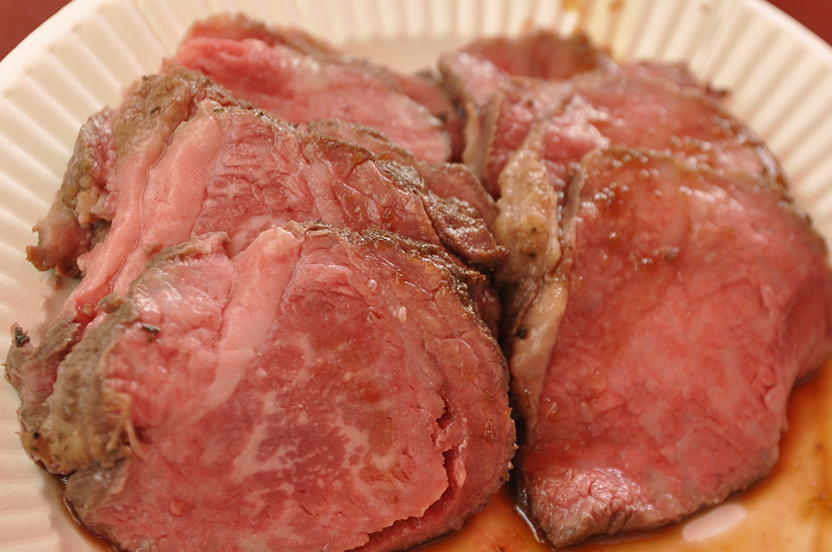 ▲Its wonderful aroma and juice spread all over the mouth.
A lot of people commented,  "How tender this lean meat is!"
This meat has been selected by "Cooking Kingdom 100 in 2015" because of its silky and velvety texture.
♦"Corned beef" this is not just a usual can of corned beef
This particular corned beef is made of selected neck and shank meat without using the trimmings.
The fiber is very thick so you can enjoy the texture of the meat, making it a totally different category of corned beef.
Moreover as no artifical coloring is applied and the meat is pickled salt free, it has a natural meat color and flavor that is very close to  the taste of stewed meat.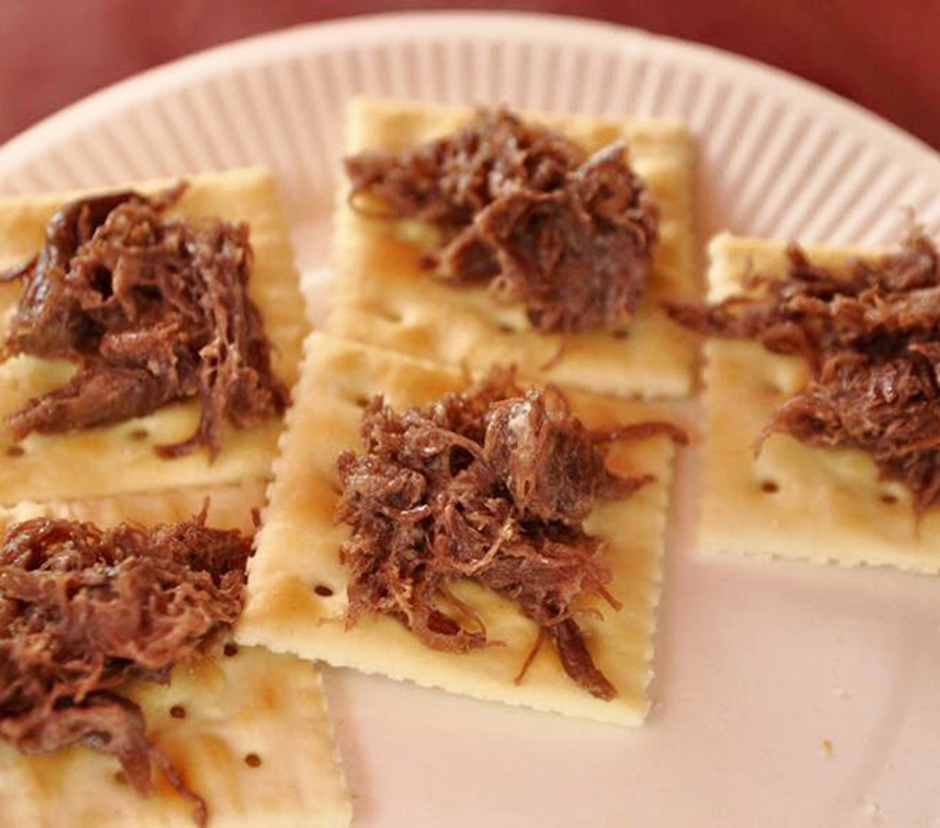 ▲We provided customers tasting of the corned beef with crackers
No chemical seasonings are used. The canned corned beef is only cooked with "salt" and "Tokachi grown beef".
We make sure that this is the case.
It was very impressive that 2 year old child had eaten a lot for tasting.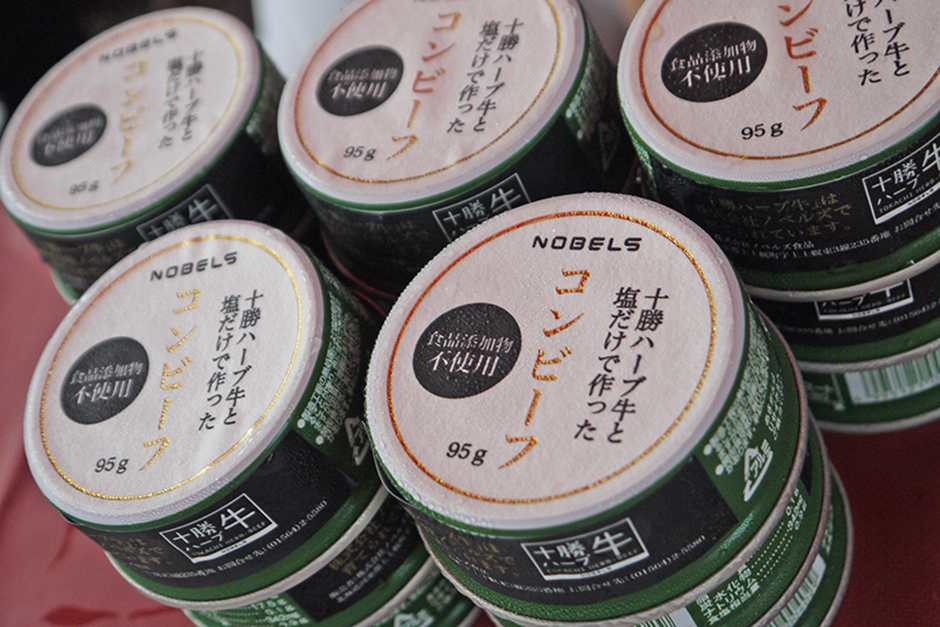 ▲"I am not good at eating corned beef, but this is delicious!", many people changed the concept of corned beef.
Now, those who read this, if you eat once, you may get to love corned beef of "Tokachi grown herb beef"!
Mr. Takeshi Enyo, who is a producer of Tokachi grown herb beef at Nobels Co., Ltd.,came from Hokkaido to join the Marche booth and explain their product to the customers!
Many customers showed great intellectual interests and curiosities in the tasty product.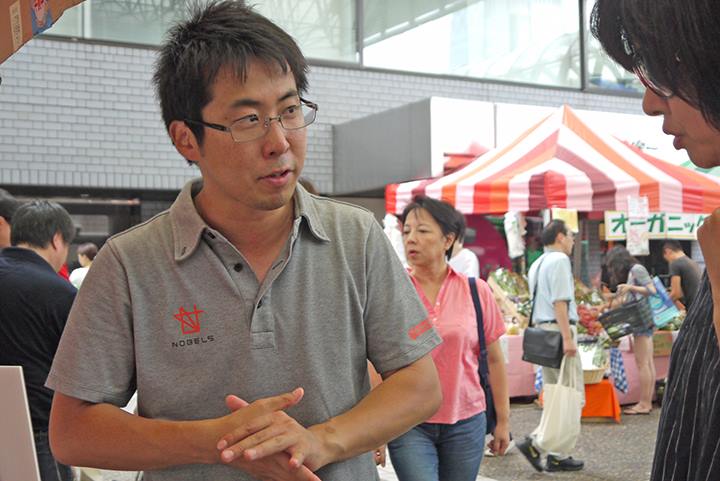 ▲Producer of Tokachi grown herb beef at Nobels Co., Ltd, Mr. Takeshi  Enyo.
People are changing their preference from "marbled beef" to "lean beef".
We guarantee that you will be amazed by this lean meat's silky and velvety texture once you try it.
We are convinced that this "Tokachi grown beef" from great Hokkaido nature will be successfully accepted not only in the domestic market but also in the international market as a branded healthy beef from Hokkaido.
*Tokachi grown herb roasted beef  200g (with sauce and western wasabi) 2,160yen (including Tax)
*Tokachi grown herb beef corned  beef 95g  1,080 yen (including Tax)
Please check below link
□Tokachi grown beef product page  http://www.kitaguni-net.com/item/item.php?item_base_id=4736
□Kitaguni kara no Okurimono HP  http://www.kitaguni-net.com/